Swedish Fika – Valentines Day – Alla Hjärtans Dag!
We celebrate Valentine´s Day (or Alla Hjärtans Dag) in Sweden with a Swedish fika that includes Kärleksmums, or Love Cakes! Welcome to try out our recipe.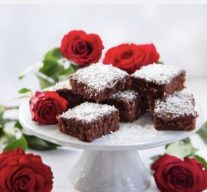 Batter: 
5.5 oz butter, 2 eggs, 1.1/4 cups sugar, 2 teaspoons vanilla sugar, 1 tablespoon sifted cacao, 2 cups white flour, 2 teaspoons baking powder, 2/3 cup milk.
Frosting: 
1/3 cup butter, 2 tablespoons cold coffee, 1 tablespoon sifted cacao, 2 teaspoons vanilla sugar, 1.1/4 cups powdered sugar.
Topping: coconut flakes
Set oven to 350 degrees F. Melt the butter and let it cool, Whip the eggs and the socker for several minutes into a porous mixture. Combine with the dry ingredients while slowly adding the milk and melted butter. Pour the batter into a parchment-covered baking pan, approximately 12 by 16 inches and bake cake in the lower part of the oven for about 15 minutes.
Let cake cool, and melt butter for the frosting and include the other frosting ingredients while stirring. Cool slightly and spread over the cake.  Spread coconut flakes liberally over the frosting. Your Swedish fika is ready, enjoy with a good cup of coffee!